Shakou Asian restaurant expanding to Arlington Hts.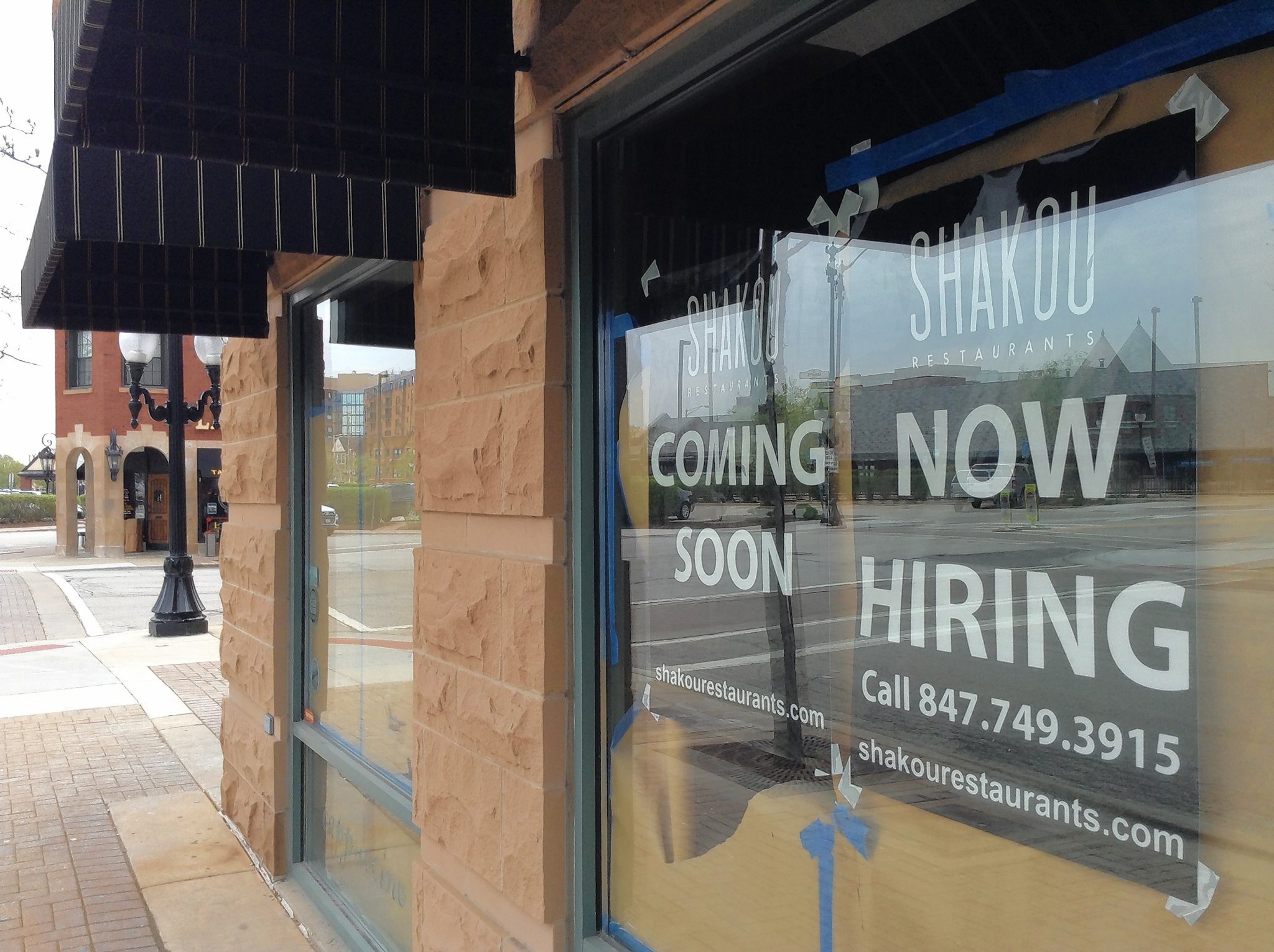 Signs advertise hiring at the new Shakou restaurant at 70 N. Vail Ave. in downtown Arlington Heights. (Christopher Placek/cplacek@dailyherald.com)
Workers on Friday continue preparations for a new patio at Shakou, a high-end Asian restaurant opening this spring at 70 N. Vail Ave. in downtown Arlington Heights. (Christopher Placek/cplacek@dailyherald.com)
Interior renovations continue at a downtown Arlington Heights restaurant space in preparation for the opening of an upscale Asian eatery this spring.
Shakou, a "high-end, urban-style" sit-down restaurant, plans to open its fifth suburban location sometime before Father's Day at 70 N. Vail Ave., officials said.
The restaurant's owners are now accepting job applications online and plan to have a job fair next month, before training those hired and opening the restaurant's doors "very soon," said Randi Moxi, the restaurant group's brand manager.
Moxi said the owners had been eyeing downtown Arlington Heights for some time. They opened their first location in Libertyville in 2013, followed by restaurants in St. Charles, Barrington and Park Ridge.
"They've been looking around several different locations in hopes of expanding the Shakou brand," Moxi said. "Arlington Heights has always been at the top of their list. That space on Vail became available, and it seems like it was meant to be."
Shakou will open inside a 3,000-square-foot space that had been occupied by Armand's Pizzeria until December, when it relocated down the block to a larger location at 101 W. Campbell St. Circa 57, a 1950s-style diner, had operated on Campbell until closing last year.
Shakou's menu offers sushi, maki and other Asian cuisine. The new location will have room for as many as 250 diners, with patio seating for al fresco dining at lunch and dinner, and a sushi and cocktail bar.
"The vision behind the Shakou brand is bringing the city vibe to the suburbs," Moxi said.